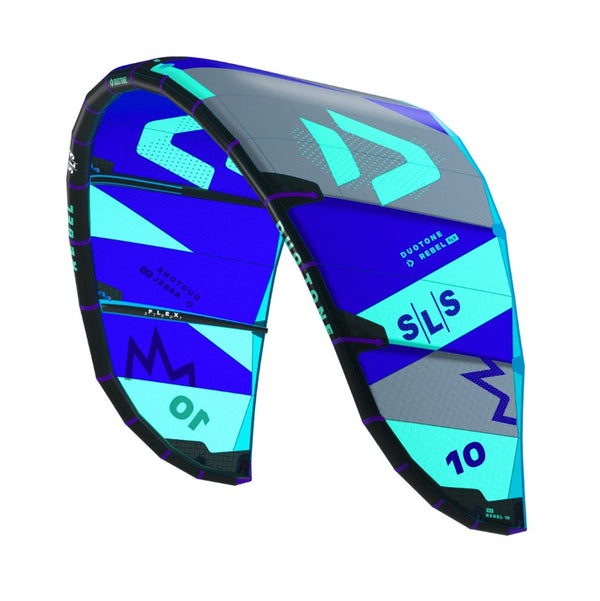 2024 Duotone Rebel SLS Kiteboarding Kite
2024 Duotone Rebel SLS Kiteboarding Kite   SIZE 6 7 8 9 10 11 12 13 14 WINDRANGE 21-40 19-38 17-36 15-34 13-32 12-29 11-26 10-23 9-21 REC. LINE LENGTH...
2024 Duotone Rebel SLS Kiteboarding Kite
| | | | | | | | | | |
| --- | --- | --- | --- | --- | --- | --- | --- | --- | --- |
| SIZE | 6 | 7 | 8 | 9 | 10 | 11 | 12 | 13 | 14 |
| WINDRANGE | 21-40 | 19-38 | 17-36 | 15-34 | 13-32 | 12-29 | 11-26 | 10-23 | 9-21 |
| REC. LINE LENGTH | 22 | 22 | 22 | 22 | 22 | 24 | 24 | 24 | 24 |
| WEIGHT WITHOUT BAG (KG) | 2.50 | 2.60 | 2.84 | 2.90 | 3.10 | 3.38 | 3.63 | 3.75 | 3.96 |
Description:
Introducing the redesigned Rebel SLS for 2024, a true icon that continues to push boundaries and redefine the riding experience for a new generation of riders. This year, the design team focused on the wing tips to improve the handling and turning speed. In addition, the canopy tension was also optimised to improve the gust handling and enable the kite to keep its shape no matter the wind strength. The combination of Penta TX and Trinity TX creates a remarkably rigid kite that maintains its shape even in challenging gusty conditions, providing consistent and smooth power delivery. The addition of Flex Struts allows the tips to twist, resulting in intuitive handling and exceptionally dynamic steering. While the Rebel SLS offers impressive power, it also provides unparalleled control. With its instantaneous depower, you can confidently navigate strong conditions and achieve extraordinary heights during big air jumps. The explosive take-off and vertical boost of the kite will propel you to new levels, while the extended hangtime will make you feel as if you're floating in the air, experiencing longer flight times with every jump. Even in light winds, the Rebel SLS remains highly capable, delivering ample low-end power through quick upstrokes, thanks to its lighter weight. This reduced weight also improves drift, allowing you to swing under the kite during landings and easily recover it. The Rebel SLS is a perfect choice for freeride enthusiasts and those seeking massive jumps with long hangtimes. Light up the height scores at your local spot and go extra-large with the new Rebel SLS. 
Features:
EASIEST KITE TO JUMP
The Rebel SLS is the easiest kite in the range to jump. Simply redirect and hold the edge, and you are rewarded with massive lift every time.
BIGGER VERTICAL BOOST
For 2024 the Rebel SLS has been tweaked to improve the vertical boost this jumping machine delivers.
INSTANT ABSOLUTE DEPOWER
Total control is right at your fingertips, simply sheet out on the bar, and the kite spills power faster than any other kite in the range.
FAST AND AGILE
The Rebel has been designed to be much more responsive; this allows you to fly the kite around the window with precision and power and get the kite to the edge of the window quickly in gusts so you can dump power when needed.
SLS CONSTRUCTION
The SLS construction helps reduce the overall weight of the kite and improves performance by making the frame stiffer. In addition, materials like Penta TX and Trinity TX make the kite light while offering excellent durability.
GOOD DRIFT AND LONG HANGTIME
The Rebel SLS offers excellent drift allowing you to catch the kite after big jumps and even gives you long hangtime in light winds allowing you to perform your tricks with ease.
Performance:
Technology:
KOOK PROOF CONNECTORS
The kook proof line connection points prevent accidents by guaranteeing that you cannot accidentally connect your lines incorrectly when rigging your kite.
DOUBLE-V PIGTAILS
These pigtails distribute the load of the line connections to the kite, minimizing the risk of fatigue, making the kite less prone to distortion and helps it to steer more smoothly.
MODERN TRAILING EDGE DESIGN
A narrower trailing edge and a lighter combination of materials to reduce wear and to create a slicker kite profile.
ANTI SNAG
The Anti Snag webbing is preventing the lines from tangling around the tip of the kite. Waterstarts are made easier and safety is increased.
HEAVY DUTY LEADING EDGE CLOSING SEAM
The leading edges of all kites are extremely durable due to a special heavy duty closing seam. The Dacron material at the leading edge is reinforced with a self sticky Insignia Tape and double stitched additionally. The Heavy Duty Leading Edge Closing Seam is resistant to very high tensions and diagonal forces.
LOAD DISTRIBUTION PANELS
As kite geometry improves, the canopy must continue to resist increasing forces. To spread these forces, Load-Distribution-Panels are used, holding the kite's shape even under the most extreme loads. In practice this gives a smoother and more consistent performance from the kite in any riding situation.
FLEX STRUTS
The counterpart to a stiff frame are the Flex Struts, between middle and tip struts. They ensure a direct and very reactive feel of SLS kites. The agaility of a three strut kite, combined with the stiffness and the solid frame of a 5 strut kite. A softer material enables the Flex Struts to bend and twist in a defined way.
Gallery:
Orders are usually processed and shipped the same day the order is placed. We do our best to get items out as quickly as possible, and are centrally located in Texas so most items will be 2-day shipping even with ground service. Domestic orders to the continental USA are shipped via UPS unless it is a small item. Small items are shipped via USPS. Most International orders are shipped via DHL express. Tracking numbers are available via this site in your account order page. if you want expedited shipping just choose it from the menu or call us at 281-508-6485 for any shipping problems or concerns.