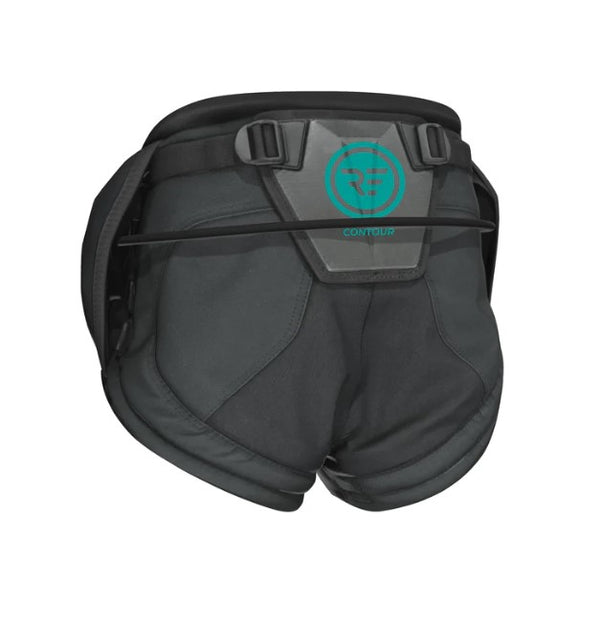 Ride Engine Contour V2 Seat Harness
Why You Need It You prefer the lower pull of the power source, mobility, and all-day comfort in an infinitely adjustable seat harness. Technology That You Get Hard-shell DNA combined...
Why You Need It
You prefer the lower pull of the power source, mobility, and all-day comfort in an infinitely adjustable seat harness.
Technology That You Get
Hard-shell DNA combined with a sacrum adjustment plate—a design geometry that delivers support for all-day sessions, plus the ability to affix our innovative Unity Spreader Bar system.
Final Word
No chafing, no bunching, no problems. Seat harness lovers rejoice!
---
FEATURES
CURV® SACRUM ADJUSTMENT PLATE
Curv® material in the sacrum adjustment plate creates a tighter, more-progressive harness fit with added protection.
UNITY SPREADER BAR COMPATIBLE
The Contour is designed to be used with our Unity Spreader Bar but can also be used with an old-style webbing-closure spreader bar if desired.
LOW-PROFILE HIP FIT
A low-profile fit across the hips increases mobility and comfort.
ADJUSTABLE PADDED LEG LOOPS
Neoprene-padded leg loops provide added comfort with minimal bulk.
STRATEGIC NEOPRENE LINING
Non-rash, minimal-seam, strategically placed neoprene comfort liner.
HANDLE-PASS AND FRONT-MOUNT LEASH ATTACHMENT OPTIONS
For freestyle riders, the Contour comes with a handle-pass-leash mount around the back (which is easy to remove for windsurfing). It also has two attachment points in the front for use when a short leash is utilized.
INTERNAL WAIST-BELT STRAP
An internal, single-closure waist-belt strap provides a secure fit and easy entry and adjustment. Includes easy access hook-knife pocket.


UNITY WEBBING CONNECTION
The Unity Spreader Bar is also compatible with harnesses that don't have Unity Ladder-Lock Straps (such as our Lyte, Momentum and Contour harnesses). Simply use the Unity Webbing Conversion Clips and you'll get the fit and performance benefits of the Unity Spreader Bar's dual Tension Lock latch closures.
Orders are usually processed and shipped the same day the order is placed. We do our best to get items out as quickly as possible, and are centrally located in Texas so most items will be 2-day shipping even with ground service. Domestic orders to the continental USA are shipped via UPS unless it is a small item. Small items are shipped via USPS. Most International orders are shipped via DHL express. Tracking numbers are available via this site in your account order page. if you want expedited shipping just choose it from the menu or call us at 281-508-6485 for any shipping problems or concerns.