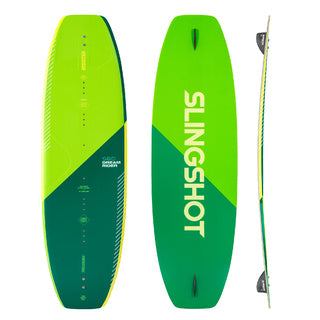 Slingshot Dream Rider V1
Dream Rider V1 The Dream Rider is here to make riding a twin tip fun again! Our design team focused on creating one of the smoothest and most fun boards...
Dream Rider V1
The Dream Rider is here to make riding a twin tip fun again! Our design team focused on creating one of the smoothest and most fun boards to ride on top of the water. We started with one of our most proven and skinniest profiles for great edge control and rail-to-rail nimbleness. We then added a whopping 26mm of concave (the most in the industry) to create a shape that munches on chop for breakfast, lunch, and dinner. We then built the board with our new Foamlite core(the only foam core in our lineup) to provide lightweight buoyancy so riders can literally float on top of the water with unmatched ease and effort.

Package Includes
Dream Rider V1 Board, 2 x 1.75 (1.9x15.2cm) Fins, Grab Handle
Why we made it
We built the Dream Rider to create the most fun free ride shape of all time. It eats up chop to provide the smoothest and dreamiest ride you have to feel to believe..

Why you will love it
+ With over 26mm of concave the Dream Rider has the deepest hull in the industry.
+ The longer and thinner outline creates a free ride upwind carving machine.
+ Center inline fins create a nimble and playful ride with the tightest turning capabilities.

Product Details
NEW Foamlite Core:
The Dreamrider is built on our Foamlite core. This is the only foam core board in our lineup. It's super lightweight and adds extra buoyancy for riders to float above the surface of the water.

NEW Mega Concave Hull:
The Dream Rider's hull features over 26mm of concave; Which makes it the industry's deepest! This creates a board that eats up chop, carves like a dream, and rockets upwind.

NEW Center Inline Fins:
Rather than 4 fins, the Dream Rider features 2 fins on the board centerline. This creates a unique, nimble, and playful turn during transitions and carving.

NEW Skinny Profile:
The longer and thinner profile delivers lots of effective edge for upwind trajectory while also creating lightning-fast reaction from toe and heel input. The result is one of the most playful and nimble boards in our lineup.

Dura Light Base:
This .2mm base material is the ideal strength to weight ratio. Lightweight performance in a strong and durable package.

Orders are usually processed and shipped the same day the order is placed. We do our best to get items out as quickly as possible, and are centrally located in Texas so most items will be 2-day shipping even with ground service. Domestic orders to the continental USA are shipped via UPS unless it is a small item. Small items are shipped via USPS. Most International orders are shipped via DHL express. Tracking numbers are available via this site in your account order page. if you want expedited shipping just choose it from the menu or call us at 281-508-6485 for any shipping problems or concerns.