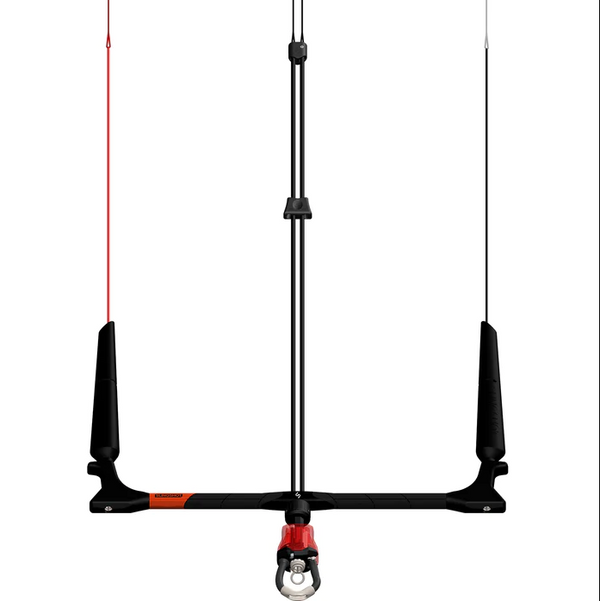 Slingshot Joystick V1 Bar
DESCRIPTION From Slingshot THE DESIGN DIFFERENCE Without a depower cleat, the Joystick has Infinite Throw: the largest range of throw on any control bar ever built. With 50% more range...
DESCRIPTION
From Slingshot
THE DESIGN DIFFERENCE
Without a depower cleat, the Joystick has Infinite Throw: the largest range of throw on any control bar ever built. With 50% more range than a traditional control bar, the Joystick provides maximum depower for complete freedom of movement on foil. The Joystick has the SureShot Click-In Safety System, which sets the standard for dependability and ease of use. The ultra-thin 22mm diameter bar and Variable FlyTech Lines combine to deliver reduced weight and amplify foil and surf performance where a kite's nimble handling and efficient drift are critical. The Joystick comes with 18-meter lines and four-meter extensions, allowing the rider to quickly customize the line lengths to meet their riding style, kite size, and conditions.
Features:
SureShot Click-In Safety System
Infinite Throw
Click-In Surf/Foil Chicken Loop
22mm Bar Diameter
Variable FlyTech Lines
MotoPlush EVA Grip
EVA Over-Molden Bar Ends
SureShot Quick Release
The Joystick comes with SureShot, our redesigned, refined, and streamlined quick- release safety system. Optimized for kite foiling, the reduced-sized surf/foil chicken loop brings the bar closer to the rider's body, maximizing depower reach. ISO compliant and doubtlessly dependable in critical situations, the SureShot is intuitively activated by pushing the hood away, immediately releasing the chicken loop and flagging out the kite. Employing an intelligently designed seatbelt-style click-in mechanism, which allows a rider to reconnect the chicken loop easily and confidently with one hand, SureShot sets the industry benchmark for dependability and ease of use.
Infinite Throw
Eliminating the depower trim system on the Joystick creates Infinite Throw: the largest range of throw on any control bar every built. Infinite Throw provides instantaneous maximum depower to unlock a kite's complete foiling and surfing potential. By providing 50% more range, Infinite Throw can maximize depower to unleash a kite's drift capabilities and allows more freedom of movement to the rider when foiling and surfing.
Variable FlyTech Lines
Completely new for 2024, the Variable FlyTech Lines are significantly thinner and stronger, significantly increasing aerodynamic efficiency and reducing weight. Created with an ultra-high molecular weight polyethylene Dyneema® in a 12x SK99 weave, the Variable FlyTech Lines offer extremely low elongation, very high abrasion and UV resistance, and are pre-stretched to ensure they stay in tune from the first session to the last of the season. The ultra-static Variable FlyTech Lines come in two aerodynamically optimized diameters on the Joystick control bar: 1.6mm front lines and 1.15mm steering lines.
22mm Bar Diameter
With a 22mm diameter, the Joystick's bar is the thinnest and lightest we have ever produced. This ultra-thin bar provides maximum control and comfort by allowing the bar to nestle into your hands' natural curve, providing ultimate steering precision.
MotoPlush EVA Grip
Our new textured MotoPlush EVA is exceptionally soft and provides unlimited durability and grip tactility. The result? Better handling and longer sessions with elevated comfort.
Package Includes:
Orders are usually processed and shipped the same day the order is placed. We do our best to get items out as quickly as possible, and are centrally located in Texas so most items will be 2-day shipping even with ground service. Domestic orders to the continental USA are shipped via UPS unless it is a small item. Small items are shipped via USPS. Most International orders are shipped via DHL express. Tracking numbers are available via this site in your account order page. if you want expedited shipping just choose it from the menu or call us at 281-508-6485 for any shipping problems or concerns.