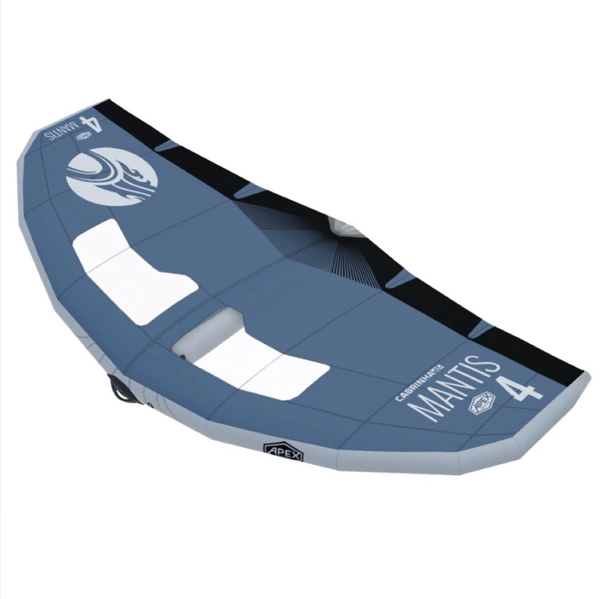 2023 Cabrinha 03 Mantis Apex Wing
03S CABRINHA MANTIS APEX SERIES HIGH PERFORMANCE ALL ROUND WING The Mantis has become synonymous with its outstanding range and versatility. Not only does the wing perform amazingly in waves,...
03S CABRINHA MANTIS APEX SERIES

HIGH PERFORMANCE ALL ROUND WING
The Mantis has become synonymous with its outstanding range and versatility. Not only does the wing perform amazingly in waves, on ocean downwinders, but it's also proved itself to excel on the racecourse or on the lakes and flat water venues.
The Mantis Apex series takes the performance to a whole new level through the introduction of the Ultra HP frame material. Aside from a 22% weight saving in frame material, the big benefit comes from the ability to hold higher pressures, allowing us to reduce the LE diameter while maintaining stiffness. This leads to a leaner profile and a higher performing product.
Visibility, High Pressure leading edge Inflatable Dihedral with a medium aspect ration
outline, efficient profile and ultra lightweight design.
Key Features
NEW: Refined lightweight canopy design for reduced weight and reactive performance

NEW: Ultra HP LE high pressure LE - for superior speed, low drag and reactive frame

Nano Ripstop Canopy, the benchmark in durability, stability and responsiveness

NEW: Sprint 30

NEW: Durable TPU bumpers

NEW: Handles - Fully moulded composite widespan handles

Hi-vis, Weather resistant, low elongation TPU window

Load path panel layout

High reactive front handle

High rigidity centre section stitching design

Lightweight TPU bladders

NEW: fine tuned size progressive wing tip twist for forgiving sheeting

NEW: Increased convex dihedral for power-to-stability ratio

NEW: Lean airfoil centre section for efficiency and upwind performance

NEW: Convex strut for added rigidity

NEW: Dump valve for fast deflate
Technology
MEDIUM DIHEDRIAL
The Mantis Apex utilizes a medium Dihedral design to deliver a precisely balanced power to stability ratio. This translates to precision handling and feedback from the wing.
TIP TWIST
Refined wingtip twist allows for wing to breathe while maintaining canopy tension.
LEAN LE
Thanks to Ultra-HP the Mantis Apex has a lean profile for efficient upwind performance, wide speed range and an extremely responsive frame.
STIFF STRUT
A highly rigid single strut for low weight and predictable depower.
20/20 VISION
A refined window layout, made from weather resistant TPU provides increased visibility when riding.
POWER CONTROL
Through a combination of Ultra-HP material, refined profiles and Tip Twist, the Mantis Apex has incredible controllable and power in a wide range of wind conditions.
ULTRA HP
A lightweight laminate material which boasts amazing strength and stability especially at higher pressures.   The use of Ultra HP allows for the opportunity to get a stronger frame at higher pressures, allowing the wing to utilize a 20% smaller diameter leading edge compared to normal materials.
HIGH PRESSURE FRAME
One unique benefit of Ultra-HP is that it allows us to inflate the Leading edge to a higher pressure. Combined with the unique reflex characteristics of the material you have a light, stiff narrow diameter frame.
WIDESPAN ANTI TWIST HANDLES
Cabrinha introduced the Widespan handles on the X2 and have since lead the charge in design. Strategically placed to allow for the ultimate in micro adjustment when riding, but to also allow for easy packdown at the end the session, the Widespan Anti Twist Handles take your winging experience to new levels.
LOAD PATH PANEL LAYOUT
Wingsurfing is a unique sport and it puts it's own unique forces on products. The Load Path Panel Layout has been carefully designed to help mitigate the varying loads and elongation that occur on wings. This translates into a cleaner and more structural product in a wider range of conditions.
2 X SPRINT
Two sprint valves connection the Stiff Strut to the Leading edge allow for increased airflow to aid in both inflating and pack down.
NANO RIPSTOP
A higher level of performance can only be achieved when the wing's design properties are supported by a stable and reactive wing material. Nano Ripstop does just that.
PURE IMPULSE FRONT HANDLE
Infused with the technology of the Widespan Handles, the Pure Impulse front handle provides a direct location for carrying, maneuvering and also for controlling the wing. On a wave the Pure Impulse Handle allows you to move the wing where you want it, when you want it, allowing you to focus on the wave ahead.
Orders are usually processed and shipped the same day the order is placed. We do our best to get items out as quickly as possible, and are centrally located in Texas so most items will be 2-day shipping even with ground service. Domestic orders to the continental USA are shipped via UPS unless it is a small item. Small items are shipped via USPS. Most International orders are shipped via DHL express. Tracking numbers are available via this site in your account order page. if you want expedited shipping just choose it from the menu or call us at 281-508-6485 for any shipping problems or concerns.