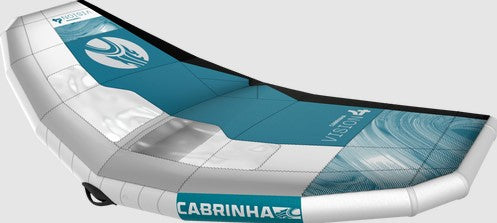 2023 Cabrinha 03 Vision Wing
2023 Cabrinha 03 Vision Wing FREERIDE, DIRECTIONALLY STABLE, UPWIND DRIVE POSITIVE LIFT Sizes: 2 / 2.5 / 3 / 3.5 / 4 / 4.5 / 5 / 6 / 7 /...
2023 Cabrinha 03 Vision Wing
FREERIDE, DIRECTIONALLY STABLE, UPWIND DRIVE POSITIVE LIFT
Sizes: 2 / 2.5 / 3 / 3.5 / 4 / 4.5 / 5 / 6 / 7 / 8
Design Profile:
High rigidity LE Inflatable, High reactive Dihedral with high lift profile, Medium AR and
convex strut
Features:
NEW: Re

fi

ned lightweight canopy design for reduced weight and reactive performance

High Tenacity dacron for enhanced dihedral stability and improved handling characteristics

HD large diameter UHMPWE reinforced closing seam construction

Nano Ripstop Canopy, the benchmark in durability, stability and responsiveness

NEW: Sprint 3.0

NEW: Durable TPU bumpers

NEW: Handles - Fully moulded composite widespan handles

Hi-vis, Weather resistant, low elongation TPU window

Load path panel layout

High reactive front handle

High rigidity centre section stitching design

Lightweight TPU bladders

NEW:

fi

ne tuned size progressive wing tip twist for forgiving sheeting
NEW: high dihedral for great upwind stability, reactive handling and a balanced

fl

ex

NEW:full airfoil centre section for low end power

NEW: Convex strut for added rigidity

NEW: Dump valve for fast de

fl

ate
Orders are usually processed and shipped the same day the order is placed. We do our best to get items out as quickly as possible, and are centrally located in Texas so most items will be 2-day shipping even with ground service. Domestic orders to the continental USA are shipped via UPS unless it is a small item. Small items are shipped via USPS. Most International orders are shipped via DHL express. Tracking numbers are available via this site in your account order page. if you want expedited shipping just choose it from the menu or call us at 281-508-6485 for any shipping problems or concerns.