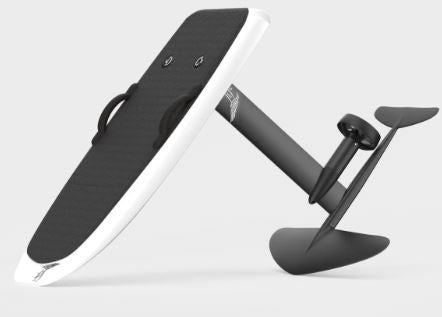 LIFT4 Efoil Electric Hydrofoil Board Light Battery
We have LIFT4 efoils in all sizes and colors in-stock and shipping dailyBuying an Efoil is a big deal!  They are the most amazing product you will ever own and...
We have LIFT4 efoils in all sizes and colors in-stock and shipping daily
Buying an Efoil is a big deal!  They are the most amazing product you will ever own and can litterally change your life.  That being said, it makes a difference who you buy from, and we hope you consider us for your purchase.  We have been selling Lift efoils since the beginning and were one of the first Lift resellers in the USA. 

We are open 7-days a week so you can get a hold of us when you need to, even on the weekends. 

It is rare, but when our clients have problems with their efoil, we handle the issues.  We have 100% service record with Lift for product and warranty issues and push issues to get resolved within 1-2 days.  Don't wait on hold with Lift.

We also carry and stock everything Lift makes with free 2-day shipping to most places in the USA. 

We offer free Continenal USA shipping on Efoils (no matter the quantity) when paying with a bank transfer.

To order you can purchase on this product page or we can create a custom invoice for you by either calling/texting us at the numbers below or emailing us at the email contact below.  We can recommend and include any wingset Lift makes, after you place your order we can install for your pickup or for your shipment the wings of your choice. 
 Texas:
Call/text:

 

281-508-6485 


Email:

 

sales@houstonkiteboarding.com
Washington:
Call/text: 

(

360) 794-1688 


Email:

 

sales@pacificnorthsports.com
New LIFT4 Efoil Feature Quick Look:
The LIFT4 has a few upgrades that set it apart from prior efoil versions and all competitors on the market.  Here are some of the highlights:

New Battery
The Gen4 battery, which is included in the new LIFT4 efoil has been completely redesigned and is being produced at a new US battery factory.  These batteries are 1 pount lighter for both the light and full range version.  They also have a higher energy density which means more run time. 
Full Range Gen4 Battery Run Time:

 

2.5hr
Light Gen4 Battery Run Time:

 

1.5hr
The crazy thing about these batteries is the charge time is less than half previous models so it only takes 50min to charge the full range and 30min to charge the light version. These batteries are also compatible with all previous models so if you have other boards you will be able to use the new batteries in them provided you have the Fischer (5-pin) connector. 
Lighter Board
The new GEN4 battery is 1 pound lighter than previous versions and this along with the 1 pound weight savings from the new carbon hatches give the new LIFT4 efoil a significant weight savings over previous models and competitors. 
 
Silent Operation
Because of the way that the power controller sends information to the motor all efoils have a kind of wining noise associated with power going to the propeller.  This noise has been eliminated on new LIFT4.  This was done using a new motor controller.  

New Ebox
The hatch section of the LIFT4 has been changed slightly so the ESC (control box) no longer needs an external bluetooth antenna.  This is great because it simplifies the inside of the box and makes the bluetooth controller connection much better especially when dipping the nose of the board under water.  The big change with the ESC is the noise reduction mentioned above.  


New Colors
The LIFT4 foils have slightly color design with no brushed effect as seen on previous models.  They also have a new color which is a light green called "lime light".  The new still features the black carbon, Blue, and white color ways we've seen in the past.  We can also upgrade your color scheme with metallic colorways for an extra $1000.


Included Wings
This package includes any one Lift's front wings and rear wings which are listed below.  There are new Camber Pro wings and two new sizes of glide wings (36 and 46) to choose from.  If you need help choosing, let us help you.  We are the experts!

Regular Wings
High Aspect Wings
Camber Pro Wings
Rear Wings
100 Surf V2
150 Surf V2
200 Surf V2
250 Surf V2
 120 High Aspect
170 High Aspect
200 High Aspect
160 Camber Pro 
210 Camber Pro
270 Camber Pro
32 Glide Rear 
36 Glide Rear
46 Glide Rear
38 Surf V2 Rear
48 Surf V2 Rear

Propulsion Options
There are two lengths of propulsion system (the height of the mast or distance between the motor and board).  The shorter is 28" measured from the fuselage to the bottom of the board.  The longer and standard length is 32".  We ship 32" propulsion systems unless you ask for a 28" shorter unit.  There are a couple of different options for propeller system including the standard aluminum fixed prop and the three variations of the LCS (Lift Connect System), which is a quick-release propeller.  

Controller Updates
There have been some minor improvements to the bluetooth controller including seals and trigger assembly updates.  There is also additional readouts available through the controller software to get detailed unit and motor data.  

LIFT4 Efoil Full Range Complete includes:
LIFT4 Carbon Efoil Board with Bag

Carbon fiber mast propulsion unit (28" or 32")
Carbon fiber wing set (front and rear wing) of your choice
V2 Bluetooth hand controller
Fast battery charger with US Plug
GEN4 1.5hr Light Battery

Wing Covers and Propulsion transport hard case
Cleaning kit
Toolkit
Manual and quick-start guide
2 year warranty on the eFoil Board
2 year warranty on the eFoil battery
Orders are usually processed and shipped the same day the order is placed. We do our best to get items out as quickly as possible, and are centrally located in Texas so most items will be 2-day shipping even with ground service. Domestic orders to the continental USA are shipped via UPS unless it is a small item. Small items are shipped via USPS. Most International orders are shipped via DHL express. Tracking numbers are available via this site in your account order page. if you want expedited shipping just choose it from the menu or call us at 281-508-6485 for any shipping problems or concerns.