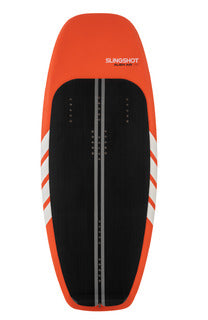 Slingshot Alien Air v5
Alien Air v5 The Alien Air has taught more people how to foil than almost any other foil board. Now in its 5th iteration, the board has been fully optimized...
Alien Air v5
The Alien Air has taught more people how to foil than almost any other foil board. Now in its 5th iteration, the board has been fully optimized for foiling progression. With a reduced volume from previous years, the board is far easier to maneuver in the water and starting position. Less volume makes your first water starts more manageable and gives your more performance as your progress past the beginner stage. Featuring subtle chined rails and an effective nose rocker, the Alien Air will keep you on foil.

Package includes
Alien Air V5 Board, Foil Track Mounting Hardware

Why we made it
We built the Alien Air V5 to give new foilers the board they need to learn and advance their foil skills. The Alien Air V5 will have anyone and everyone progressing to full-time foiler in no time.

Why you will love it
•The Alien Air V5 has the perfect balance of size and volume to make learning and progressing easier.
•Subtle chined rails and nose rocker keep you on foil longer.
•Can be ridden with any strap configuration or with foot hooks.
•User-friendly shape and outline give riders the ability to progress quickly and easily.

Product Details
Reduced Volume: The Alien Air features less volume than previous versions, making the board easier to manipulate in the water and into starting position. This makes water starts easier and also allows for quicker progression.

Foil Friendly Outline: We developed a longer and skinnier shape for the Alien Air V5. This shape and outline put progression first. It prevents nose diving on your beginner foil rides and also delivers phenomenal tracking as your progress.
Subtle Chined Rails: The chined rails on the Alien Air V5 will help keep you on foil when experiencing touchdowns—this angled surface helps pushes you back on foil.

Nose Rocker: When learning to foil you will experience quick rises and even quicker crashes. The nose rocker on the Alien Air V5 will help absorb that impact and direct you back onto foil.
Adjustable Foil Track Mount: This allows you to slide your foil forward and aft on your board to fine tune how it feels and performs based on your size, ability and personal preference.

Multiple Footstrap Insert Positions: Choose your configuration: ride with three straps, two straps, one strap, no straps or our Half-Straps.

Corduroy Eva: Super soft EVA features a corduroy texture that provides tons of grip (and is as pleasing to your feet as it is to the eye).

Orders are usually processed and shipped the same day the order is placed. We do our best to get items out as quickly as possible, and are centrally located in Texas so most items will be 2-day shipping even with ground service. Domestic orders to the continental USA are shipped via UPS unless it is a small item. Small items are shipped via USPS. Most International orders are shipped via DHL express. Tracking numbers are available via this site in your account order page. if you want expedited shipping just choose it from the menu or call us at 281-508-6485 for any shipping problems or concerns.